Sewer Line Repair in Seattle
Traditional & Trenchless Sewer Line Replacement Experts Near You
Are you plagued by slow or backed-up drains throughout your entire home? While a single clog may simply require drain cleaning, problems that affect all the drains in your Seattle home may indicate a need for sewer repair.
At Zoom Drain of Seattle, we specialize in drain and sewer services. Our highly-rated technicians arrive with fully-stocked vans to repair your drain or sewer line issue as quickly as possible. With our Satisfaction Guarantee, you can trust we'll get your job done right.
Searching for drain or sewer repair in Seattle? Schedule your service online today or call us at (206) 309-5645 to get started.
Leave the Drain and Sewer Repair Services to Us!
Your drain and sewer lines are the unsung heroes of your home. They carry away wastewater and keep you and your family safe and healthy, so it's vital to keep them in working order.
Because of how well-integrated these pipes are within your property, sewer drain repair may seem like a messy, disruptive undertaking. That's why you need Zoom Drain of Seattle!
Searching for trenchless sewer line repair near you? Or maybe you need a storm drain repaired? Our local drain specialists have the advanced training, experience, and technology to take care of drain and sewer line repairs in Seattle quickly and efficiently. Give us a call today for cost-effective solutions to your drain or sewer problems!
Call (206) 309-5645 or schedule online for expert sewer repair in Seattle.
Specializing in Repairing Drainpipes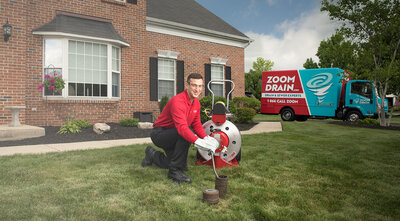 Zoom Drain of Seattle specializes in drains. You may find many sewer line repair companies near you but, because of our narrow focus, we are experts in the common issues and problems homeowners encounter with their drains and sewer lines.
Our technicians complete more drain cleaning services each year than most Seattle plumbers do in their lifetime, so we've seen it all.
Clogs are the most common reason a homeowner requests drain repair. Over time, cooking grease, hair, oil, dirt, and other debris can stick to the inside of the drainpipe, and this buildup can eventually cause a complete blockage. In severe cases, this blockage may cause the pipe to crack or break.
If you notice a slowdown with your drains, our team can use our specialized snake cameras to inspect your drain and find the source of the problem.
Then, we'll clear it out using one of the following methods:
PowerSnake, which uses a blade attached to a plumbing snake to cut through obstructions
ZOOM Jetting®, our proprietary water jetting technology for safe yet powerful results
Drain maintenance products, including ZOOM DRAIN Bio™, CitraJet®, and RootX®
We're the drain and sewer experts! We can handle any issue we run into. Call us at (206) 309-5645 to request your service today.