Sewer & Drain Services in Downingtown
Professional Residential & Commercial Services
No matter if you own a home or business in Downingtown, nothing can be as frustrating and annoying as a plumbing issue. From backed-up sewer lines, clogged drains, or unpleasant odors, a plumbing issue can quickly become a nuisance, all while bringing your day to a screeching halt. Lucky for you, Zoom Drain of Chester County is here to provide you with all the sewer line cleaning service you need. We work to solve the current issues you are experiencing, and we also advise you on how avoid future drain and sewer issues as well.
When you turn to Zoom Drain of Chester County, you can rest assured knowing you'll receive:
Upfront & Honest Pricing – Before we complete any work, our team will provide you with an upfront and honest price for your services. You can rest assured knowing you're making the best choice. Plus, you'll never be weighed down by low quotes, overtime charges, or hidden fees.
A Team of Professionals – Our team is comprised of professionally trained, certified, and skilled technicians are ready to provide you with high-quality services you can't find anywhere else in Downingtown.
Our Full Guarantee – Not only does our team guarantee your full satisfaction with every service we complete, but we also take it even further by providing some of the best warranties for commercial drain cleaning near you!
Whether you're dealing with a slow-moving drain or a drain that has stopped draining altogether, it's important to have a professional complete service as soon as possible. Our Downingtown sewer and drain specialists are here to complete all the services you need to keep your commercial or residential plumbing system working efficiently and effectively, every day of the year!
Dial (610) 486-5790 or go here to request your Downingtown drain and sewer service today!
Trusted Technicians

Customer Satisfaction

Flat Rate Pricing

Super Service Trucks

Not Sure What You Need?
Check out some drain and sewer symptoms to find your answer.
Explore Now
Contact Us
(610) 486-5790
Areas We Serve
atglen
avondale
berwyn
birchrunville
brandamore
chester springs
coatesville
cochranville
devault
devon
downingtown
elverson
exton
glenmoore
honey brook
immaculata
kelton
kemblesville
kennett square
kimberton
landenberg
lewisville
lincoln university
lionville
lyndell
malvern
mendenhall
modena
nottingham
oxford
paoli
parker ford
parkesburg
phoenixville
pocopson
pomeroy
pottstown
sadsburyville
saint peters
spring city
thorndale
toughkenamon
unionville
uwchland
valley forge
wagontown
wayne
west chester
west grove
westtown
19087
19301
19310
19311
19312
19316
19320
19330
19333
19335
19341
19343
19344
19345
19346
19347
19348
19350
19351
19352
19353
19354
19355
19357
19358
19362
19363
19365
19366
19367
19369
19372
19374
19375
19376
19380
19381
19382
19390
19395
19421
19425
19432
19442
19457
19460
19465
19470
19475
19480
19481
19520
Schedule Service
"Juan Carlos from Zoom Drain was phenomenal. He evaluated the problem, gave me a couple of options for remediation and the pricing up front. He fixed the problem as discussed. He was very professional and a pleasure to work with. I highly recommend him and his services."

"This is the second time I've called Zoom to clean out my storm and sewer drains. Steve Martino is always on time, polite, knowledgable and just pleasant to deal with. Wouldn't choose anyone else for this service."

"Zoom Drain cleared our courtyard drain this morning. They were on time and completed the job quickly. Also had foot covers to protect the wood floor and treats for the dogs!"
Read More Reviews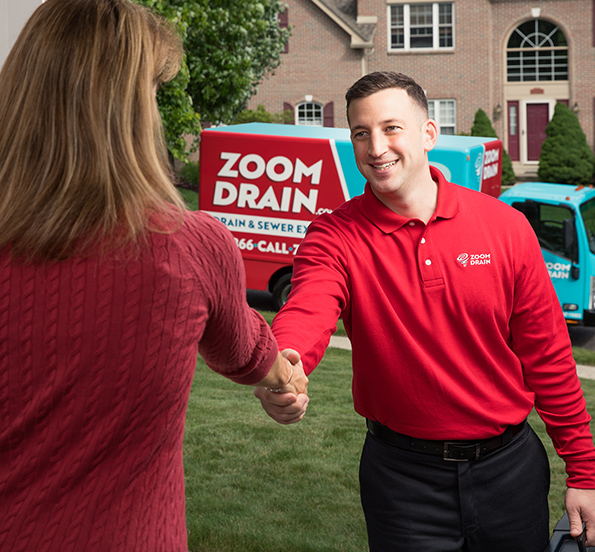 Downingtown COMMERCIAL DRAIN & SEWER SERVICES
At Zoom Drain of Chester County, we're here for both your residential and commercial properties in Downingtown. No matter the size of your business, or industry you find yourself in, you can turn to our team of sewer and drain specialists for reliable and convenient service. From restaurants to shopping centers to schools and universities, our team continually provides superior services to all types of commercial property owners in Downingtown.
Whether you're looking for a one-time cleaning, sewer and drain repairs, or a routine maintenance plan, you can rest assured knowing that our team of specialists are here to quickly diagnose your problem and offer you a durable and high-quality solution that gets your business back to normal operations in no time at all! Next time you need sewer or drain services in Downingtown, give our expert team a call!
Experience the difference Zoom Drain of Chester County can make for your commercial drains and sewer lines, give our team a call at (610) 486-5790 or go here to request your service today!