Brunswick Drain Cleaning Services
Your Local Drain & Sewer Repair Specialists in Brunswick
When drain lines back up, a normal routine can quickly come grinding to a halt. No one wants to deal with an unreliable plumbing system that prevents you from carrying on with your day.
Zoom Drain of New England provides professional drain repair and cleaning methods for home and business owners in Brunswick, Maine. We use the most cutting-edge technology and methods for clearing drains. Whether you need a routine drain cleaning, grease trap cleaning, sewer repair, or other drain or sewer service, we're the team to call! Many of our local clients call on us for emergency plumbing services such as a leaky pipe or drain cleaning service. We also offer sewer services including sewer pump repair and sump pump repair in Brunswick.
Schedule online for drain cleaning in Brunswick or call (207) 495-7793!
Sewer Line Inspections
If you are experiencing a clog or a sewer problem but you cannot isolate the origin, our team provides sewer inspections using state-of-the-art video camera equipment. After positioning the camera into your sewer line, we will be able to ascertain the health of your sewer pipes and the location of any blockages through a live feed. This will allow us to diagnose any issues and give our professional recommendations for sewer repair.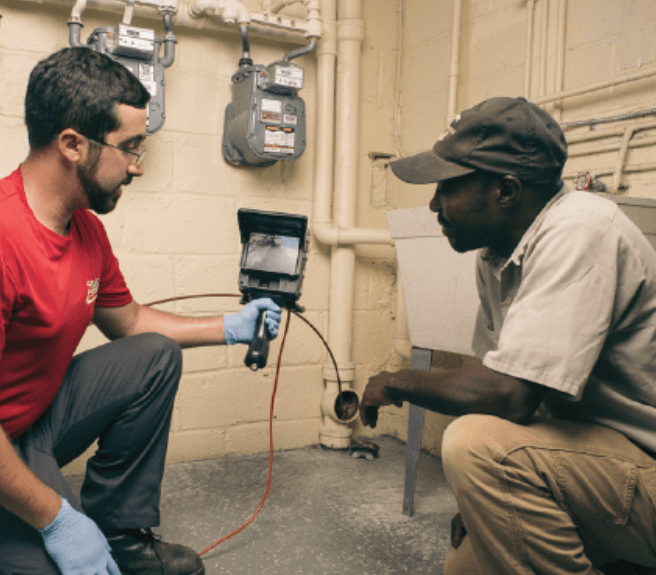 Different Drain Repair Methods for Different Needs
Sewer pipes in Brunswick, even though they are designed to last, still have a finite lifespan. If our video inspection reveals that your pipes have issues, we can provide insight on the most effective repair to address the problem.
We Offer the Following Sewer Repairs Methods:
Traditional Excavation: For some people, traditional excavation is the best option. This involves digging a trench for the length of the pipe that needs replacement or repair.
Trenchless Sewer Repair: Thanks to modern technology, excavation is no longer the only option. Trenchless methods allow drain specialists to repair pipes without too much digging.
Zoom PowerPipe™: This is a trenchless repair commonly called "pipe bursting". Essentially, this method entails fitting a new pipe inside of your old sewer pipe causing the old pipe to burst.
Zoom Pipe Relining: For pipes that are in better condition but have pinholes or defects that do not require full replacement, pipe relining is a good option. This method involves relining old pipes with a fresh epoxy seal.
Need a drain cleaning technician in Brunswick? Schedule your service online or by dialing (207) 495-7793. We offer same-day and next-day service!