Sewer & Drain Cleaning in Richmond
Trustworthy Technicians, Clear Communication, Satisfied Customers
The drains and sewer lines in your home play an important role. They are responsible for transporting wastewater and sewage out of and away from your property, so it's crucial that they are always in great shape. When problems arise, the team at Zoom Drain of Richmond is always ready to help. We provide drain and sewer repairs in Richmond and the surrounding areas and have the experience and advanced tools to deliver fast, reliable, and lasting solutions.
Whether your drains are backing up, a pipe is leaking, or you're overdue for an inspection, we'll use industry-leading tools and techniques to uncover any problems that may exist. We'll then communicate our findings to you and explain potential solutions. Honesty and transparency are important to us, which is why we'll make sure you fully understand what we intend to do before we get to work.
Skip the harmful store-bought drain cleaning products and Call our Richmond drain and sewer cleaning team as soon as problems arise.
Trusted Technicians

Customer Satisfaction

Flat Rate Pricing

Super Service Trucks

Not Sure What You Need?
Check out some drain and sewer symptoms to find your answer.
Explore Now
Contact Us
(804) 531-6481
Areas We Serve
chesterfield
glen allen
henrico
mechanicsville
midlothian
moseley
richmond
sandston
23059
23060
23075
23111
23112
23113
23114
23116
23120
23150
23173
23219
23220
23221
23222
23223
23224
23225
23226
23227
23228
23229
23230
23231
23232
23233
23234
23235
23236
23237
23238
23250
23269
23273
23284
23294
23297
23298
23832
Schedule Service
"Juan Carlos from Zoom Drain was phenomenal. He evaluated the problem, gave me a couple of options for remediation and the pricing up front. He fixed the problem as discussed. He was very professional and a pleasure to work with. I highly recommend him and his services."

"This is the second time I've called Zoom to clean out my storm and sewer drains. Steve Martino is always on time, polite, knowledgable and just pleasant to deal with. Wouldn't choose anyone else for this service."

"Zoom Drain cleared our courtyard drain this morning. They were on time and completed the job quickly. Also had foot covers to protect the wood floor and treats for the dogs!"
Read More Reviews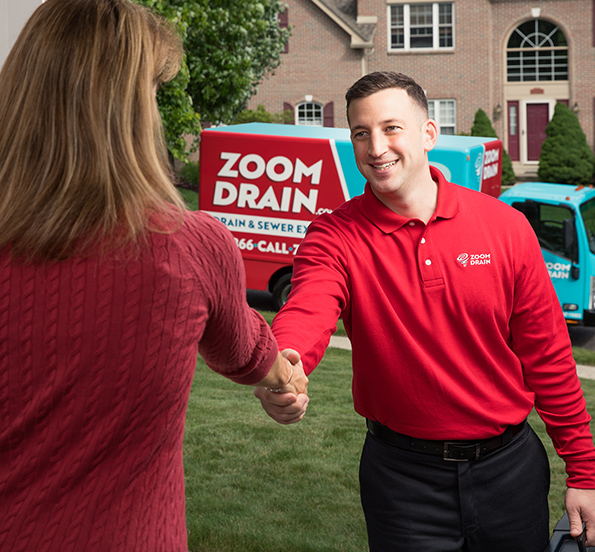 Is It Time to Call the Pros?
Sometimes it's easy to know when to call a professional to fix your sewer or drain problems. If your sink continually backs up, a call to our Richmond plumbers should be a no-brainer. However, not all symptoms of drain and sewer problems are so obvious. Here are a few other signs you should be on the lookout for:
Slower than normal flushing or draining power
Unexplainable puddles of water near your drains
A sudden change in water pressure
Notice one or more of the above? Call Zoom Drain of Richmond! Sewer and drain problems are nothing to take lightly. Even seemingly small issues can be indicators of more extensive problems, and small issues can turn into more complex situations if not addressed in a timely manner. We offer both residential and commercial services!
We offer flat-rate pricing and planned maintenance programs to ensure your system is always in great shape. Give us a call today at (804) 531-6481 to schedule a sewer or drain repair in Richmond.