Sewer & Drain Cleaning in Lexington, KY
Same-Day & Next Day Drain Cleaning Near You
Clogged drains may seem like a passing inconvenience until you realize that it completely hinders your day and may even create health problems depending on the severity. Fortunately, when faced with an unruly obstruction and significant drain damage, Zoom Drain of Lexington is the team you contact!
Our local technicians specialize in drain and sewer cleaning, so much so that it's all we do—really. We specifically focus on keeping sewers and drains healthy and free-flowing. You can count on our courteous technicians to use innovative equipment and effective products to remove debris from pipes and ensure they stay clear.
Need drain cleaning in Lexington, KY? We offer same-day and next-day service. Call us at (859) 295-7718 or book your service easily online.
Why Call Us to Clean Your Drains & Sewers?
We're masters of drains and sewers, literally, because it's all we do. From our super service trucks to the drain cleaning equipment, we have everything needed to clear your drains or sewer lines quickly.
At Zoom Drain of Lexington:
We Offer a 30-Day Satisfaction Guarantee
We Offer Same-Day & Next-Day Service
We Protect Your Home or Business
We Offer Flat-Rate Pricing (This Means No Hidden Fees!)
Our Techs are Trained & Trustworthy
We offer the rapid and reliable assistance and satisfying outcomes you deserve in Lexington. With our support, you get clean drains that help keep your day moving forward.
To schedule your service, simply use our online scheduler. Or you can call our friendly team at (859) 295-7718 today.
Trusted Technicians

Customer Satisfaction

Flat Rate Pricing

Super Service Trucks

Not Sure What You Need?
Check out some drain and sewer symptoms to find your answer.
Explore Now
Contact Us
(859) 295-7718
Areas We Serve
beaumont
bryan station
chevy chase
downtown lexington
frankfort
gainesway
gardenside
georgetown
griffin gate
hamburg
hartland
jessamine county
keene
keeneland
lexington
masterson station
midway
millersburg
nicholasville
north middletown
palomar
paris
richmond
transylvania university
university of kentucky
versailles
wilmore
winchester
zandale
40324
40339
40347
40348
40356
40357
40361
40383
40390
40391
40475
40502
40503
40504
40505
40506
40507
40508
40509
40510
40511
40513
40514
40515
40516
40517
40526
40536
40601
Schedule Service
"Juan Carlos from Zoom Drain was phenomenal. He evaluated the problem, gave me a couple of options for remediation and the pricing up front. He fixed the problem as discussed. He was very professional and a pleasure to work with. I highly recommend him and his services."

"This is the second time I've called Zoom to clean out my storm and sewer drains. Steve Martino is always on time, polite, knowledgable and just pleasant to deal with. Wouldn't choose anyone else for this service."

"Zoom Drain cleared our courtyard drain this morning. They were on time and completed the job quickly. Also had foot covers to protect the wood floor and treats for the dogs!"
Read More Reviews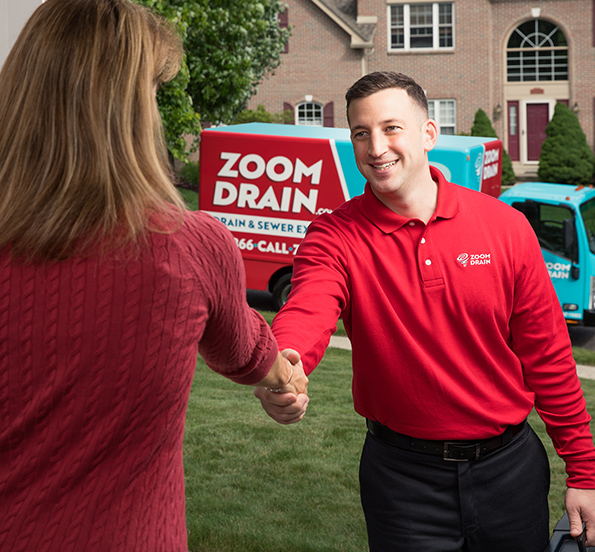 Cutting-Edge Drain Cleaning Tools & Techniques
When you think about clearing a clog, what comes to mind: A technician using loud, heavy-duty machinery to inspect drains and eliminate obstructions? Not with Zoom Drain of Lexington!
We can do the same job as standard plumbers using effective yet eco-friendly products that don't create a mess at your home or business.
Our professionals use proprietary drain and sewer clearing products that:
Remove invading tree roots
Push obstructions out of pipes
Dissolve stuck-on debris
Eliminate drain odors
When you trust our experienced technicians to support you, you get detailed inspections, accurate diagnoses, and a completely customer-focused experience.
Call (859) 295-7718 to schedule a drain cleaning, repair, or inspection today.