Hackettstown Sewer & Drain Services
Drain & Sewer Solutions that Last
There's almost nothing more anxiety-inducing than having malfunctioning drains. This means your toilets may not flush, water pressure could suffer, and many other issues that cause your space to be unsanitary.
Fortunately, you don't have to DIY the problem. Zoom Drain of Northwest Jersey specializes in sewer and drain services. In fact, sewers and drains are all we work on, and we're exceptional at it.
Call us at (973) 949-6206 for quick and expert Hackettstown drain cleaning! Or schedule easily online. We warranty our services and respect your home.
Our Trusted Drain Cleaning and Sewer Services
We offer fast and affordable support to homeowners, business owners, restaurateurs, property managers, plumbing contractors, etc., in and around Hackettstown.
You can expect both residential and commercial services that include:
Drain cleaning
Drain inspection
Pump replacement
Drain care products
Whether your sewer system is backing up into your home or you have stubborn recurring drain blockages, rely on us for dependable solutions.
How To Tell If Your Pipes Are Clogged
Don't let a clogged drain take you by surprise - pay attention to the warning signs! Slow-draining sinks and unpleasant odors coming from fixtures are sure indicators of an issue with your plumbing. Take action before it becomes a major problem!
Signs of a clogged drain include, but are not limited to:
Drain is Slow to Drain
Drain Doesn't Drain at All
Drain Has a Rotten Smell
Toilet's Water Levels Are Off
Don't worry if your drains appear to be giving you trouble - our experienced professionals have the resources and expertise necessary to quickly figure out what's wrong and take care of it with a thorough drain cleaning service. No need for alarm, help is just around the corner!
Experience a new level of drain cleaning with our speedy and knowledgeable services in Hackettstown. We guarantee all of our work while at the same time respecting your home's environment--so give us a call today or simply arrange an appointment online!
Trusted Technicians

Customer Satisfaction

Flat Rate Pricing

Super Service Trucks

Not Sure What You Need?
Check out some drain and sewer symptoms to find your answer.
Explore Now
Contact Us
(973) 949-6206
Areas We Serve
andover
annandale
asbury
augusta
basking ridge
bedminster
belle mead
belvidere
bernardsville
blairstown
blawenburg
bloomsbury
boonton
bound brook
branchville
bridgewater
budd lake
butler
califon
cedar knolls
chatham
chester
clinton
columbia
denville
dover
dunellen
east hanover
far hills
flagtown
flanders
flemington
florham park
franklin
franklin park
frenchtown
gillette
gladstone
glen gardner
glenwood
great meadows
green village
hackettstown
hamburg
hampton
hewitt
high bridge
highland lakes
hillsborough
hopatcong
hopewell
kendall park
kenvil
kingston
lafayette
lake hiawatha
lake hopatcong
lambertville
landing
layton
lebanon
ledgewood
lincoln park
long valley
lyons
madison
manville
martinsville
mendham
milford
millington
mine hill
montague
montville
morris plains
morristown
mount arlington
mount tabor
mountain lakes
neshanic station
netcong
new vernon
newfoundland
newton
oak ridge
ogdensburg
oldwick
oxford
parsippany
peapack
pequannock
phillipsburg
pine brook
pittstown
plainfield
pompton plains
port murray
pottersville
princeton
randolph
raritan
ringoes
riverdale
rockaway
rocky hill
skillman
somerset
somerville
south bound brook
sparta
stanhope
stewartsville
stirling
stockholm
stockton
succasunna
sussex
three bridges
towaco
vernon
warren
washington
watchung
wharton
whippany
whitehouse station
07005
07034
07035
07045
07046
07054
07058
07059
07060
07062
07063
07069
07082
07405
07416
07418
07419
07421
07422
07435
07438
07439
07440
07444
07457
07460
07461
07462
07801
07803
07821
07822
07823
07825
07826
07827
07828
07830
07832
07834
07836
07838
07840
07843
07847
07848
07849
07850
07851
07852
07853
07856
07857
07860
07863
07865
07866
07869
07871
07874
07876
07878
07882
07885
07920
07921
07924
07927
07928
07930
07931
07932
07933
07934
07935
07936
07939
07940
07945
07946
07950
07960
07976
07977
07979
07980
07981
08502
08504
08525
08528
08530
08540
08551
08553
08558
08559
08801
08802
08804
08805
08807
08809
08812
08821
08822
08823
08824
08825
08826
08827
08829
08833
08835
08836
08844
08848
08853
08858
08865
08867
08869
08873
08876
08880
08886
08887
08889
Schedule Service
"Juan Carlos from Zoom Drain was phenomenal. He evaluated the problem, gave me a couple of options for remediation and the pricing up front. He fixed the problem as discussed. He was very professional and a pleasure to work with. I highly recommend him and his services."

"This is the second time I've called Zoom to clean out my storm and sewer drains. Steve Martino is always on time, polite, knowledgable and just pleasant to deal with. Wouldn't choose anyone else for this service."

"Zoom Drain cleared our courtyard drain this morning. They were on time and completed the job quickly. Also had foot covers to protect the wood floor and treats for the dogs!"
Read More Reviews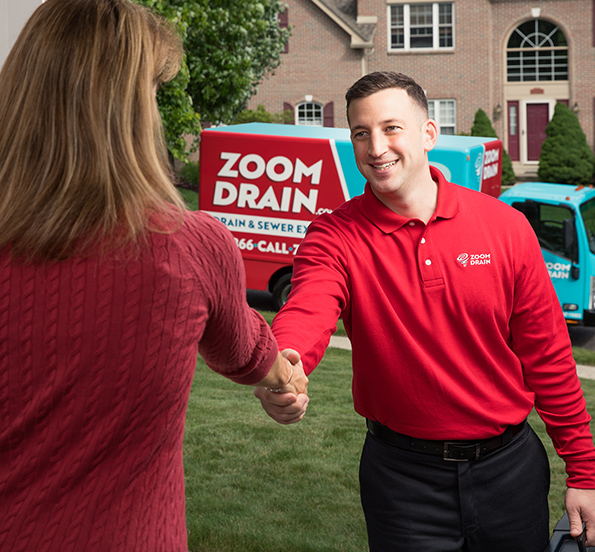 What Makes Our Team Stand Out?

Aside from the customizable drain and sewer services, our offerings also come with inherent advantages that attract customers and can't be matched by competitors.
Some of these benefits include the following:
Employing the latest technology – We employ everything from high-pressure water jets to eco-friendly chemicals that remove drain obstructions. You can count on us for the most current drain and sewer strategies.
Focusing solely on sewers and drains– Being a jack-of-all-trades is great, but it isn't conducive to our specialized services and the custom drain and sewer solutions you deserve. So, no, we don't do it all. But what we have done up to this point, we've mastered.
Creating a convenient experience – Requesting our assistance means a customer-focused experience centered around accommodating your needs. We book your appointment at a time that works with your schedule—always.
When you need sewer and drain support that won't break the bank and improves the health of your pipes, we're the team to call.
Contact us at (973) 949-6206 to get started!