Denver Drain Cleaning and Repair
Reliable sewer and drain maintenance are essential for any Denver home or business. Without proper care, clogs can form in your drains, leading to unpleasant odors, gurgling sounds, and eventual damage to your pipes. To avoid these potential disasters, it's important to stay on top of regular maintenance like drain cleaning and video inspections.
Zoom Drain of Denver offers professional services using state-of-the-art technology to make sure your sewers are running smoothly all year round. With our help, you can rest assured that your drains will remain clear and odorless no matter what comes their way! Our services can help you avoid big problems like burst pipes and sewage leaks.
Call (720) 807-2276 today to schedule your next drain cleaning! We look forward to assisting you.
Trusted Technicians

Customer Satisfaction

Flat Rate Pricing

Super Service Trucks

Not Sure What You Need?
Check out some drain and sewer symptoms to find your answer.
Explore Now
Contact Us
(720) 807-2276
Areas We Serve
arvada
broomfield
denver
golden
henderson
thornton
westminster
wheat ridge
80002
80003
80004
80005
80007
80020
80021
80030
80031
80033
80202
80203
80204
80205
80206
80211
80212
80214
80215
80216
80218
80221
80229
80233
80234
80241
80260
80264
80265
80274
80290
80294
80401
80403
80419
80640
Schedule Service
"Juan Carlos from Zoom Drain was phenomenal. He evaluated the problem, gave me a couple of options for remediation and the pricing up front. He fixed the problem as discussed. He was very professional and a pleasure to work with. I highly recommend him and his services."

"This is the second time I've called Zoom to clean out my storm and sewer drains. Steve Martino is always on time, polite, knowledgable and just pleasant to deal with. Wouldn't choose anyone else for this service."

"Zoom Drain cleared our courtyard drain this morning. They were on time and completed the job quickly. Also had foot covers to protect the wood floor and treats for the dogs!"
Read More Reviews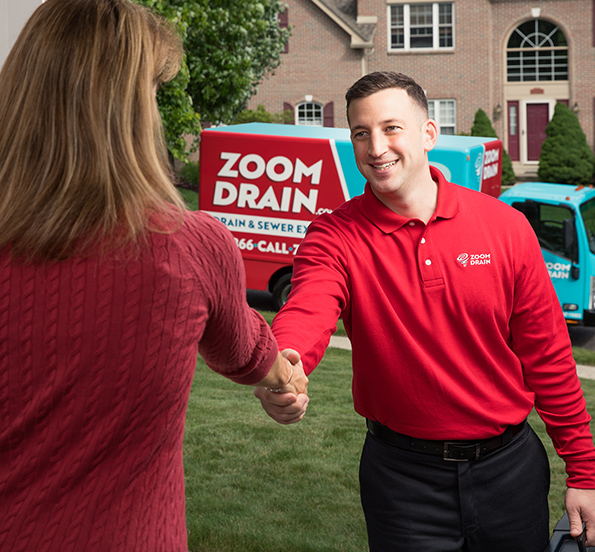 Your Trusted Drain and Sewer Specialists
Zoom Drain of Denver is the leading provider of drain and sewer services in the area. Our team of experienced professionals specializes in all aspects of drainage systems, from routine drain cleaning to large-scale repairs.
Our services include, but are not limited to:
Drain cleaning and repair
Video drain inspections
Pump replacement
Septic services
Commercial grease trap maintenance
We aren't a full-scale plumbing company, but we are experts at drain and sewer cleaning and repairs. Whether your kitchen sink won't drain, or your business' main sewer line has a tree root intrusion, our team of specialists can assist you in the Denver area.