Denver Drain Cleaning & Repair Services
Advanced Technology, Experienced Technicians, Proven Results
Are your drains or sewers backing up or having issues? Don't worry, help is here! At Zoom Drain of Denver South, we specialize in professional drain and sewer cleaning services to get those lines flowing like they're supposed to. Our experienced team of plumbers offers efficient and reliable service that you can trust – allowing you the peace of mind of knowing your property's drainage system is being taken care of by industry experts.
Backed by a national brand with decades of industry experience, our local Denver drain repair company is your go-to for all drain and sewer needs. Our unrivaled expertise combined with cutting-edge technologies ensures top-notch service every time. When it comes to unclogging drains, we are at the forefront of the industry.
Rest assured, our drain and sewer cleaners in Denver follow time-tested protocols to deliver results. We are committed to using environmentally friendly products that comply with state and local plumbing codes, ensuring both the health of your drains and the well-being of our planet.
Choose us for unmatched quality, reliability, and peace of mind. Contact us today and experience excellence in drain services.
Trusted Technicians

Customer Satisfaction

Flat Rate Pricing

Super Service Trucks

Not Sure What You Need?
Check out some drain and sewer symptoms to find your answer.
Explore Now
Contact Us
(720) 740-5794
Areas We Serve
aurora
commerce city
denver
dupont
englewood
littleton
80010
80011
80012
80013
80014
80015
80017
80022
80024
80045
80110
80113
80121
80122
80207
80208
80209
80210
80220
80222
80223
80224
80230
80231
80237
80238
80239
80246
80247
80249
80266
Schedule Service
"Juan Carlos from Zoom Drain was phenomenal. He evaluated the problem, gave me a couple of options for remediation and the pricing up front. He fixed the problem as discussed. He was very professional and a pleasure to work with. I highly recommend him and his services."

"This is the second time I've called Zoom to clean out my storm and sewer drains. Steve Martino is always on time, polite, knowledgable and just pleasant to deal with. Wouldn't choose anyone else for this service."

"Zoom Drain cleared our courtyard drain this morning. They were on time and completed the job quickly. Also had foot covers to protect the wood floor and treats for the dogs!"
Read More Reviews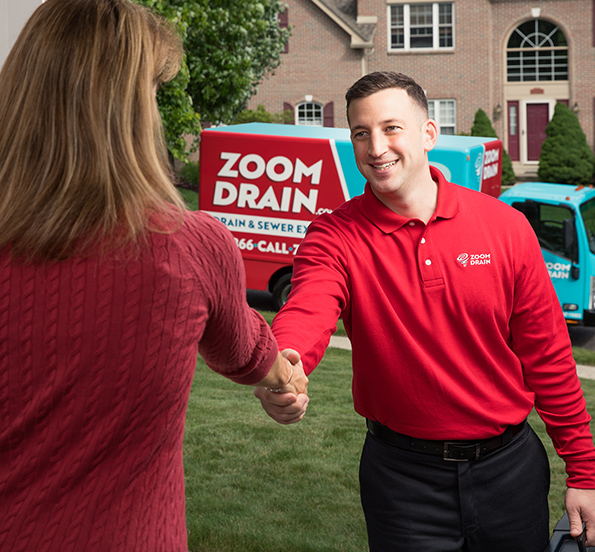 When drain and sewer problems plague your home or business, having a trusted, reliable plumber you can quickly turn to is key. Zoom Drain of Denver South and our team are the ones to call. In addition to our experience and nationally respected name, here are five more reasons to choose us:
Clear Pricing & Transparency – Forget hourly rates. We offer affordable pricing based on the project. Get a fair and upfront estimate after our initial consultation.
State-of-the-Art Supplies & Technologies – We use the best tools available like drain snakes, pipe locators, probiotic drain treatments, high-pressure truck-mounted jetting, video inspection tools, and eco-friendly cleaning products.
Warranties & Guarantees – Our warranties and service guarantees ensure you can relax knowing you're in good hands.
Efficient Maintenance Solutions – Our comprehensive plans provide a range of options, offering monthly, quarterly, and yearly programs to ensure regular servicing of your drains.
Exceptional Professionalism – Our commitment extends beyond the surface as we meticulously clean every job site, uphold client privacy, and safeguard property.
The answer is clear: Zoom Drain of Denver South is who you want in your home or business when sewer or drain problems arise. If you're ready to schedule your service, give us a call today at (720) 740-5794.