Drain & Sewer Cleaning Specialists in Indianapolis, IN
Dynamic & Affordable Drain Repair Services
Plumbing problems often spring up unexpectedly, causing inconvenience and stress. Dealing with them immediately is crucial to prevent further damage. However, finding a reliable plumbing service provider who can handle emergencies with ease and speed can be an uphill task. This is where Zoom Drain of Indianapolis can help. From affordable prices to top-of-the-line supplies and technologies, your drain and plumbing needs will be covered when you trust our technicians.
We understand that transparency and affordability are vital. That is why we charge by the project, not the hour, so you can rest assured that there will be no hidden fees or surprises. Our technicians are always stocked with top-of-the-line supplies and technologies designed to handle all plumbing emergencies easily and quickly. We provide warranties to ensure our customers' peace of mind – you can rest assured knowing we stand behind our work.
Trusted Technicians

Customer Satisfaction

Flat Rate Pricing

Super Service Trucks

Not Sure What You Need?
Check out some drain and sewer symptoms to find your answer.
Explore Now
Contact Us
(317) 483-7381
Areas We Serve
amo
avon
brownsburg
carmel
cicero
clayton
coatesville
danville
fishers
indianapolis
noblesville
pittsboro
plainfield
sheridan
stilesville
westfield
whitestown
zionsville
46032
46033
46034
46037
46038
46060
46062
46069
46074
46075
46077
46103
46112
46118
46121
46122
46123
46167
46168
46180
46202
46204
46208
46214
46222
46224
46228
46234
46240
46250
46254
46256
46260
46268
46278
46280
46290
Schedule Service
"Juan Carlos from Zoom Drain was phenomenal. He evaluated the problem, gave me a couple of options for remediation and the pricing up front. He fixed the problem as discussed. He was very professional and a pleasure to work with. I highly recommend him and his services."

"This is the second time I've called Zoom to clean out my storm and sewer drains. Steve Martino is always on time, polite, knowledgable and just pleasant to deal with. Wouldn't choose anyone else for this service."

"Zoom Drain cleared our courtyard drain this morning. They were on time and completed the job quickly. Also had foot covers to protect the wood floor and treats for the dogs!"
Read More Reviews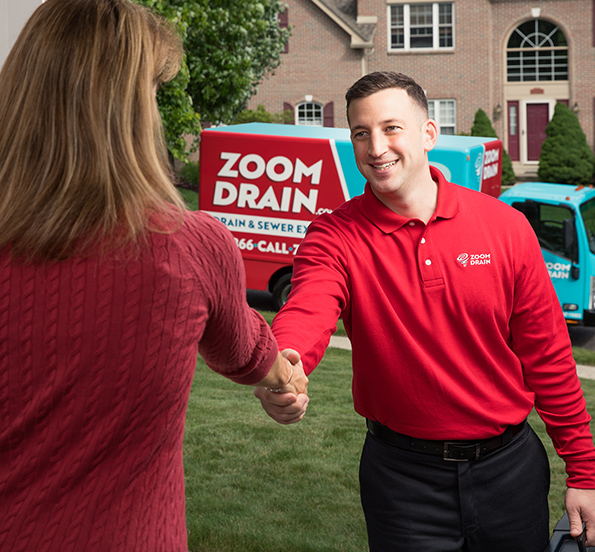 Elite Plumbing Solutions Backed By Hi-Tech Equipment
At Zoom Drain of Indianapolis, our tools and equipment are second to none. We utilize:
Drain snakes and root cutters to remove stubborn clogs
Truck-mounted jetting gadgets to tackle challenging blockages
Video inspection tools to pinpoint the root cause of drainage problems quickly
Probiotic drain treatments and biodegradable cleaning products that are effective and environmentally friendly
Our technicians wear uniforms and carry ID badges, giving you peace of mind in knowing we are professionals backed by a trusted, nationwide franchise family. We value professionalism and are committed to exceeding your expectations.
If you're looking for proactive drain maintenance, you've come to the right place. Our maintenance plans are flexible. We offer monthly, quarterly, and yearly options to suit your plumbing and budgetary needs. Whatever you choose, your plumbing system is in premier hands.
Want to learn more about our sewer and drain services? Call (317) 483-7381 or reach out online!