Sewer and Drain Services in Buda, TX
Central Texas Drain and Sewer Experts Near Austin & San Antonio
Are you facing stubborn drain clogs or sewer issues in Buda, TX? Look no further than Zoom Drain of Central Texas for exceptional support. Our dedicated professionals are here to provide you with top-notch drain cleaning and sewer services.
When it comes to your property, we understand the importance of having a well-functioning plumbing system. Our experienced technicians specialize in residential and commercial drain cleaning services, utilizing cutting-edge techniques and equipment to remove even the most stubborn obstructions. From clogged sinks and toilets at home to clogged grease traps at a retail establishment, no job is too big or small for our team.
Trust us to restore the flow and functionality of your drains, ensuring peace of mind for you and your loved ones.
Our service philosophy revolves around these three principles:
Fast: Responding promptly to our customers' needs, we prioritize punctuality and arrive ready to work. After all, "Zoom" is a key part of our name, reflecting our commitment to swift action.
Focused: Our specialization in drains and sewers is powered by cutting-edge technology, ensuring that your drainage systems are cleared of clogs and maintained effectively.
Fixed: We understand that our customers seek solutions, and that's precisely what we deliver. With the right tools and extensive experience, we get the job done efficiently and effectively.
For swift, targeted service that effectively addresses your drain and sewer concerns in Buda, trust our team. Beyond our expertise, we hold ourselves to high standards of customer service. Your satisfaction remains our ultimate priority.
Identifying Clogged Pipes
Don't let a clogged drain dampen your day. Allow our skilled professionals to diagnose and resolve the issue, freeing you to focus on other matters. Our efficient and prompt drainage services stand out, ensuring peace of mind that your plumbing needs will be met without unnecessary delays.
Clogged drains come with unmistakable signs, such as:
Gurgling noises
Stagnant water
Unpleasant odors
Don't wait for a drain disaster to strike your property. Begin with Zoom Drain of Central Texas today. Our drain cleaning and inspection services not only resolve immediate issues but also enhance the overall health and longevity of your plumbing. Regular maintenance and inspections act as preventative measures, saving you time and money that could otherwise be spent on costly repairs.
What areas do you serve?
The areas we serve in Texas are as follows: Austin, Bastrop, Buda, Canyon Lake, Cedar Creek, Cibolo, Coupland, Del Valle, Elgin, Hutto, Kyle, Manchaca, Manor, Marion, Mc Queeney, New Braunfels, San Antonio, San Marcos
START IMPROVING THE PERFORMANCE OF YOUR DRAINS AND PREVENT CLOGS by Contacting us today at (737) 252-5750!
Trusted Technicians

Customer Satisfaction

Flat Rate Pricing

Super Service Trucks

Not Sure What You Need?
Check out some drain and sewer symptoms to find your answer.
Explore Now
Contact Us
(737) 252-5750
Areas We Serve
austin
bastrop
buda
canyon lake
cedar creek
cibolo
coupland
del valle
elgin
hutto
kyle
manchaca
manor
marion
mc queeney
new braunfels
north san antonio
san antonio
san marcos
schertz
southeast austin
taylor
76574
78108
78123
78124
78130
78132
78133
78154
78259
78261
78266
78602
78610
78612
78615
78617
78621
78634
78640
78652
78653
78666
78710
78719
78721
78723
78724
78725
78741
78742
78744
78747
78754
Schedule Service
"Juan Carlos from Zoom Drain was phenomenal. He evaluated the problem, gave me a couple of options for remediation and the pricing up front. He fixed the problem as discussed. He was very professional and a pleasure to work with. I highly recommend him and his services."

"This is the second time I've called Zoom to clean out my storm and sewer drains. Steve Martino is always on time, polite, knowledgable and just pleasant to deal with. Wouldn't choose anyone else for this service."

"Zoom Drain cleared our courtyard drain this morning. They were on time and completed the job quickly. Also had foot covers to protect the wood floor and treats for the dogs!"
Read More Reviews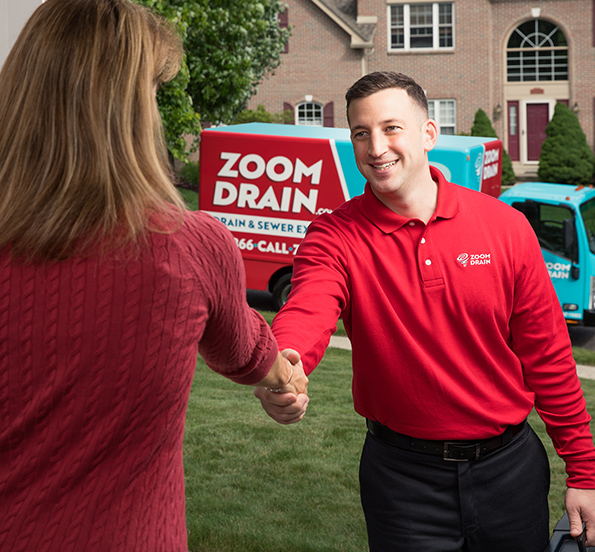 Why Trust Zoom Drain of Central Texas
What sets Zoom Drain of Central Texas apart from the rest? Here's why you can trust our team:
Experience: With years of experience in the industry, our technicians have encountered and successfully resolved countless drain and sewer issues. You can rely on their expertise to tackle any problem effectively.
Cutting-Edge Technology: We stay current with the latest drain and sewer cleaning technology advancements. Our team utilizes innovative tools and techniques, such as ZOOM JETTING®, to provide efficient, long-lasting solutions.
Professionalism: We take great pride in our professionalism and commitment to customer satisfaction. Our technicians are friendly, reliable, and dedicated to delivering exceptional service on every job.
Prompt Response: Drain emergencies can happen at any time. That's why we offer timely services and strive to respond to your inquiries quickly. Count on us to be there when you need us the most.
Let us help you restore the flow and functionality of your drainage system and experience the expertise and reliability that our team brings to every residential and commercial drain and sewer service in Buda, TX.