Drain & Sewer Cleaning Specialists in Mobile, AL
Cutting-Edge Plumbing Solutions, Fair Prices, & High-Quality Supplies,
When it comes to plumbing, detecting the source of the problem is half the battle. With outdated methods, it was nearly impossible to find the source without tearing up floors and walls. Luckily, Zoom Drain of Gulf Coastutilizes advanced technology to find and fix plumbing issues fast, efficiently, and cost-effectively. We then apply expert techniques to ensure efficient, long-lasting repairs and solutions.
We pride ourselves on our unwavering commitment to professionalism, which includes our uniforms. Our technicians carry ID badges that identify them as Zoom Drain employees, so you can feel secure when they arrive at your home. We also charge by the project, not by the hour – ensuring you never receive any unexpected expenses.
Trusted Technicians

Customer Satisfaction

Flat Rate Pricing

Super Service Trucks

Not Sure What You Need?
Check out some drain and sewer symptoms to find your answer.
Explore Now
"Juan Carlos from Zoom Drain was phenomenal. He evaluated the problem, gave me a couple of options for remediation and the pricing up front. He fixed the problem as discussed. He was very professional and a pleasure to work with. I highly recommend him and his services."

"This is the second time I've called Zoom to clean out my storm and sewer drains. Steve Martino is always on time, polite, knowledgable and just pleasant to deal with. Wouldn't choose anyone else for this service."

"Zoom Drain cleared our courtyard drain this morning. They were on time and completed the job quickly. Also had foot covers to protect the wood floor and treats for the dogs!"
Read More Reviews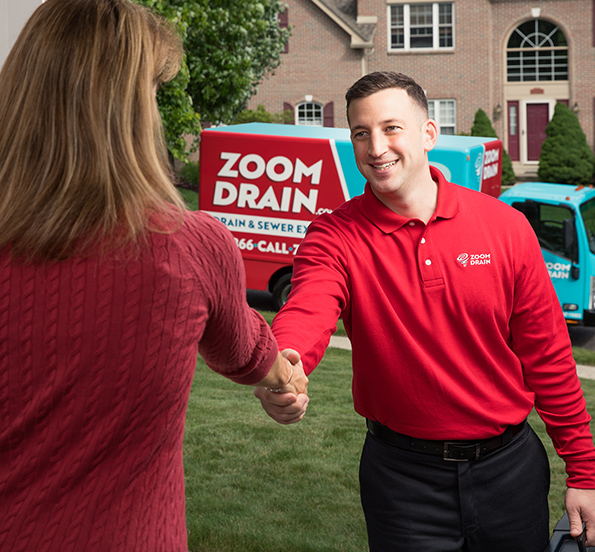 Another Content Zone Goes Here
Your Local Solution For Plumbing Concerns
We have the knowledge and expertise to spot and detect leaks, rust, blockages, and rot before they become emergencies. Our high-resolution cameras can locate the source of remote plumbing issues in your drain, sewer lines, and piping. Once we have identified the root cause of the problem, we will deliver a comprehensive inspection report and a clear course for correction. This report will help you make informed decisions about the plumbing issue, saving you money and time.
At Zoom Drain of Gulf Coast, we understand the importance of using top-of-the-line equipment. That's why we utilize drain snakes, root cutters, probiotic drain treatments, and biodegradable cleaning products. Our state-of-the-art tools and proven practices ensure your plumbing issues are resolved with ease and speed. In addition to delivering valuable services, we value maintaining long-lasting relationships with our clients. Our services are backed by warranties, ensuring the best possible solution is provided for your plumbing issue. We also offer maintenance plans that include monthly, quarterly, and yearly programs, depending on your needs.
Need drain or sewer repairs? Call (251) 325-1972 or reach out online!