Drain & Sewer Repair in Raleigh
Proudly Serving Clayton, Smithfield, Middlesex, Garner, Wilson, and Beyond
Discover the difference with Zoom Drain of Raleigh Southeast – your trusted partner for all things related to drains and sewers. As a specialist in this niche, our expertise runs deeper than your typical plumber. We focus exclusively on drains and sewers, making us the go-to professionals for these specific needs in Raleigh, NC.
Our comprehensive residential services cover drain cleaning, sewer repair, drain inspection, and more. We tackle everything from minor clogs to major blockages and sewer line issues. With our team at your service, no drain or sewer problem is too complex or too trivial.
Why the Local Community Trusts Us
What sets us apart is not just our specialized knowledge, but also our commitment to delivering superior quality service. Residents in Raleigh trust us because we respond quickly, work efficiently, and prioritize customer satisfaction. Our experienced technicians are equipped with the latest tools and technology, ensuring they can handle any drain or sewer issue with precision and care.
At Zoom Drain of Raleigh Southeast, we believe in doing one thing and doing it exceptionally well. That's why we've dedicated ourselves to mastering the intricacies of drains and sewers. When you choose us, you're choosing true experts who bring unrivaled experience and professionalism to every job.
Contact us and experience the Zoom Drain difference today.
Trusted Technicians

Customer Satisfaction

Flat Rate Pricing

Super Service Trucks

Not Sure What You Need?
Check out some drain and sewer symptoms to find your answer.
Explore Now
Contact Us
(984) 249-2234
Areas We Serve
angier
benson
black creek
clayton
four oaks
fuquay varina
garner
goldsboro
kenly
knightdale
lucama
middlesex
princeton
raleigh
selma
sims
smithfield
wendell
willow spring
wilson
zebulon
27501
27504
27520
27524
27526
27527
27529
27530
27542
27545
27557
27569
27576
27577
27591
27592
27597
27603
27610
27813
27851
27880
27893
Schedule Service
"Juan Carlos from Zoom Drain was phenomenal. He evaluated the problem, gave me a couple of options for remediation and the pricing up front. He fixed the problem as discussed. He was very professional and a pleasure to work with. I highly recommend him and his services."

"This is the second time I've called Zoom to clean out my storm and sewer drains. Steve Martino is always on time, polite, knowledgable and just pleasant to deal with. Wouldn't choose anyone else for this service."

"Zoom Drain cleared our courtyard drain this morning. They were on time and completed the job quickly. Also had foot covers to protect the wood floor and treats for the dogs!"
Read More Reviews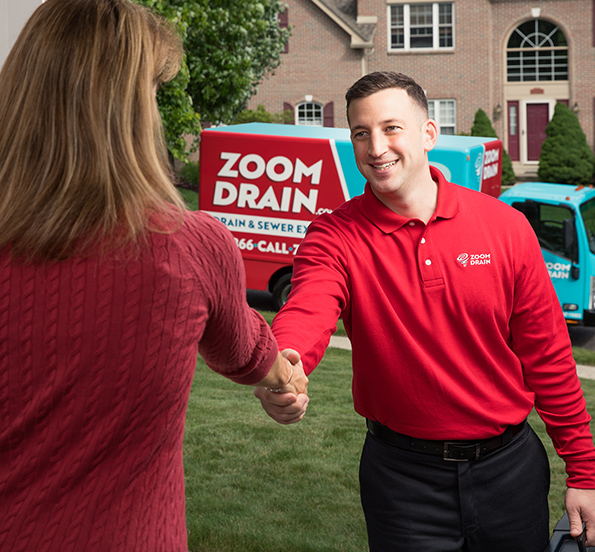 Our Commercial Drain & Sewer Solutions
We know that a smoothly running business depends on efficient plumbing systems. Our skilled professionals are equipped to handle a wide range of commercial drain and sewer services. Whether it's an office space with drainage issues or a restaurant needing grease trap support, we have the expertise to get your business back on track. With our prompt and reliable services, you can minimize downtime and keep your operations running smoothly.
From commercial drain cleaning to sewer line inspection, we offer a comprehensive range of services to meet your specific needs. Our goal is to provide lasting solutions that address the root cause of the problem.