Reliable Sewer & Drain Services in Pennsauken
Specialized Sewer Cleaning Services for Your Home or Business
If you've ever found yourself with a clogged drain, you know that it can be more than just a headache.
Whether it's in the kitchen of your home or the bathroom of your business, it can quickly disrupt your day. As for your business, it can cause unwanted downtime. Sewer problems can be even more disruptive.
When these kinds of problems arise, you need to turn to the experts at Zoom Drain of South Jersey. Our technicians specialize in sewer and drain repairs and will provide a fast, reliable, and affordable solution. Check out our reviews to see why our clients love us!
Need drain cleaning or sewer cleaning in Pennsauken Township? Call us at (856) 263-4764 to book your service. Or book online. We handle the toughest problems.
Our Drain Services Near You
We offer both residential and commercial services, including:
Drain repair
Pump replacement
Grease trap services (commercial)
Dealing with any drain or sewer problem can be stressful and at times overwhelming. Thankfully, our team specializes in these areas. We will arrive fully prepared to tackle your problem with confidence and precision.
Reach out to Zoom Drain of South Jersey today at (856) 263-4764 to schedule your sewer and drain cleaning in Pennsauken.
Advanced Drain Cleaning Methods
Not all clogged drains are created equally. Bathroom sink clogs are much different than commercial drain clogs. Our Pennsauken drain and sewer cleaning experts arrive ready to handle clogs of all kinds.
Our service trucks are equipped with the advanced tools needed for fast resolution.
Some of the advanced technology we use includes:
ZOOM Jetting®. Our trademark system breaks through clogged drains using powerful water pressure.
PowerSnake. For tougher clogs, we loosen up build-up using this fast and reliable method that rotates a cable with a blade through your pipes.
ZOOM Drain Bio™ and CitraJel®. If your drains have been cleaned recently, these products are the next step. They will help to naturally break down new build-up caused by food, hair, grease, and particles.
Count on us for fast and reliable drain cleaning in Pennsauken Township. Book your service online to give our friendly team a call at (856) 263-4764.
Detecting Sewer Problems
Unlike drain issues, sewer problems are a bit more difficult to detect. Because sewer lines are underground, it's obviously harder to know when there is an issue. Many customers don't call for assistance until the damage is severe.
At Zoom Drain of South Jersey, we want to help you solve issues before they become more complex. Ultimately, we want to prevent extensive and expensive repairs.
Some signs of sewer problems include:
Strong, foul odors around your property, especially closest to where the lines are buried
The sudden appearance of pests or rodents around your property
Soggy areas of your yard
Rising water bills
Issues with your plumbing, such as inconsistent toilet bowl water levels
If you notice one or more of these signs, don't hesitate to reach out to our Pennsauken sewer and drain specialists. The faster we get to work, the lesser the chance of your problem becoming worse.
The Importance of Routine Sewer Maintenance
You have so much going on at any given time that you probably don't spend much time thinking about your sewer. That's understandable, but it's something you really shouldn't ignore. You rely on your sewer system far too much. It's recommended that your sewer system is cleaned every 12 – 24 months. Your sewer lines may be out of sight, but they certainly shouldn't be out of mind.
Reach out to us today to schedule your sewer line cleaning!
Specialized Experience, Guaranteed Satisfaction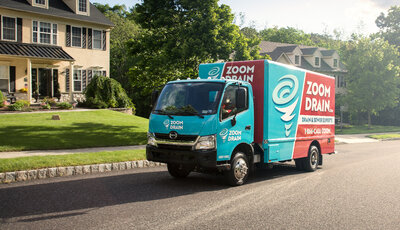 At Zoom Drain of South Jersey, we aren't jacks of all trades. Quite the opposite, in fact. We have very specialized experience with drains and sewers. That puts us a step above the average plumbing company in Pennsauken.
Lastly, we are backed by a satisfaction guarantee to ensure you get the service you deserve.
Contact us at (856) 263-4764 for a free on-site inspection. We offer honest, upfront pricing.