Sewer & Drain Services in Springfield, PA
Drain Cleaning and Sewer Services in Delaware County
Not only are frequent clogs in your home or business's drains annoying, if left untreated they can quickly pose a health risk to your loved ones, employees, or customers. When you need reliable services to get your sewer and drain flowing freely without issues, turn to your local drain cleaning company at ZOOM DRAIN®. Every day, local owners of home and businesses continue to turn to Zoom Drain of Delaware County for professional and reliable drain and sewer services. Whether you're dealing with clogs or foul odors being emitted from your sewer lines, it's important to call the professionals. Our local customers rely on us for clogged drains, sewer backups, drain line repair, drain line installation and even drain and sewer inspection.
Trust the drain cleaning experts at Delaware County. Contact us or call (215) 716-1208.
There are several reasons why our locally owned and operated drain and sewer company in Springfield continues to be chosen over the competition. From our friendly attitude to our commitment to excellence, we're confident that we'll get your sewer and clogged drains flowing freely again in no time. Since we specialize in these components of the plumbing system, we're able to quickly locate the issue and determine a solution that works for you. Next time you need drain cleaning or sewer repair in Springfield or the surrounding areas, be sure to turn to the professionals at Zoom Drain of Delaware County.
When you're ready, give us a call at (215) 716-1208 or contact us online to schedule your next service.
Trusted Technicians

Customer Satisfaction

Flat Rate Pricing

Super Service Trucks

Not Sure What You Need?
Check out some drain and sewer symptoms to find your answer.
Explore Now
Contact Us
(215) 716-1208
Areas We Serve
aston
brookhaven
broomall
bryn mawr
chadds ford
chester
chester heights
cheyney
clifton heights
concordville
crum lynne
darby
drexel hill
edgemont
essington
folcroft
folsom
garnet valley
glen mills
glen riddle lima
glenolden
gradyville
haverford
havertown
holmes
lansdowne
lenni
marcus hook
media
morton
newtown square
norwood
prospect park
ridley park
sharon hill
springfield
swarthmore
thornton
upper darby
villanova
wallingford
woodlyn
19008
19010
19013
19014
19015
19016
19017
19018
19022
19023
19026
19028
19029
19032
19033
19036
19037
19039
19041
19043
19050
19052
19060
19061
19063
19064
19070
19073
19074
19076
19078
19079
19081
19082
19083
19085
19086
19094
19317
19319
19331
19342
19373
Schedule Service
"Juan Carlos from Zoom Drain was phenomenal. He evaluated the problem, gave me a couple of options for remediation and the pricing up front. He fixed the problem as discussed. He was very professional and a pleasure to work with. I highly recommend him and his services."

"This is the second time I've called Zoom to clean out my storm and sewer drains. Steve Martino is always on time, polite, knowledgable and just pleasant to deal with. Wouldn't choose anyone else for this service."

"Zoom Drain cleared our courtyard drain this morning. They were on time and completed the job quickly. Also had foot covers to protect the wood floor and treats for the dogs!"
Read More Reviews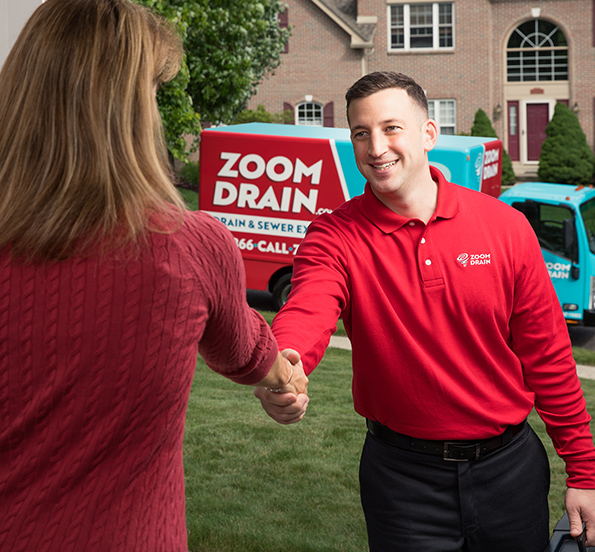 Your Local Commercial Drain & Sewer Specialists
As business owners ourselves, we understand how crucial your plumbing system is to your daily operations. That's why our team at Zoom Drain of Delaware County is here to provide your business with the commercial drain and sewer services needed to keep your system running efficiently, all while keeping other possible issues at bay.
We also offer commercial drain cleaning services from restaurants to shopping centers to medical offices, our team has the experience and knowledge to service virtually any drainage or sewer system in the Springfield area. Using industry-leading equipment and time-tested methods, our team will take the time to properly diagnose your issue and work to provide you a reliable, durable, and convenient solution to get your commercial drains or sewers back to working order in no time! Ask about our commercial drain and sewer maintenance programs that provide your business with regular, recurring commercial sewer and drain services.
Experience the difference our team can make for your commercial system. Give us a call at (215) 716-1208 or contact us online to get started!