Residential Video Drain Inspection in Doylestown, PA
We'll Get Your Plumbing Running Again in No Time
It's not always difficult to detect when you have a clogged or slowing drain or sewer – but knowing exactly what is causing the problem is the tough part. There are quite a few reasons why your drains and sewers may not drain as they should. At Zoom Drain of Bucks County, we have the tools, techniques, and experience to inspect your drains and sewers, diagnose the problem, and provide a reliable, lasting repair.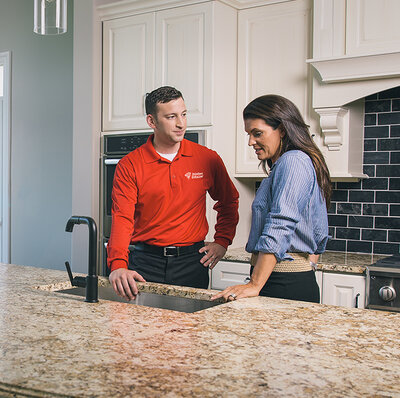 Whether your kitchen sink is draining slowly, your toilet is backing up, or you need a real estate inspection to learn about the state of a plumbing system, you can count on our Doylestown drain inspection team to provide you with answers.
Signs You Need to Inspect & Clean Your Drain
Plumbing lines take a lot of abuse over the years. This is especially true for Pennsylvania homeowners who are not well-versed in what kinds of behaviors can be damaging to pipes. There are some forces that don't relate to homeowner decisions at all. Root systems on your property and the age of your plumbing are a couple things that can cause issues even if you treat your plumbing carefully.
Maybe you are not having any current problems with your plumbing system, but having your drains inspected every year is critical to prevent damage from tree roots or clogs - request drain inspection services if you've seen any signs of plumbing problems, including:
Water draining slowly
Sewer flies or gnats coming from drains
Gurgling coming from drain
Air bubbles released from drain
Inconsistent water pressure
The smell of sewage coming from the drain
Mold or mildew growth in or around home
Sound of continually running water
Unexplained puddles throughout the property, possibly from a leaking sewer pipe
Because damage can multiply costs over time, it's good to have your sewer lines and drains inspected regularly. That's where Zoom Drain of Bucks County comes in. Our team of sewer inspection specialists can identify any problems early on, pinpoint the exact location, and provide solutions.
Benefits of Drain Inspection
Regular drain maintenance is essential for maintaining a healthy plumbing system in your home. By scheduling preventative drain maintenance and drain inspection with our technicians, you can avoid costly repairs and keep your drains running smoothly. Here are some key benefits:
Identifying potential issues: Our advanced camera technology allows us to identify any potential issues, such as cracks, leaks, or tree root intrusion, before they become major problems.
Preventing clogs: Regular drain cleaning helps remove buildup and debris that can lead to clogs. By keeping your drains clear, you can avoid the inconvenience and expense of a blocked drain.
Improving drainage: Over time, drains can become slow and sluggish due to buildup. By scheduling regular maintenance, you can ensure that water flows freely through your pipes, improving drainage and preventing backups.
Extending the lifespan of your plumbing system: By keeping your drains clean and well-maintained, you can extend the lifespan of your entire plumbing system. Regular maintenance helps prevent damage and deterioration, saving you money in the long run.
Promoting a healthy environment: Clogged drains can lead to unpleasant odors and unsanitary conditions. By investing in preventative drain maintenance, you can maintain a clean and healthy environment in your home.
Don't wait until you have a major plumbing issue to seek out an inspection. You can trust that the ZOOM DRAIN team will keep your plumbing system in tip-top shape.
call (215) 515-7907 or contact us online to schedule reliable drain or Sewer camera inspection in Doylestown today!
Do Drain Flies Mean I Have a Leak?
Drain flies, also known as sewer flies, are an annoying and sometimes worrying presence in your home. About the size of a fruit fly or gnat, they often suddenly appear near kitchens or bathroom–Anywhere where there is standing water. If you have the displeasure of seeing their larvae, you will notice they are small and wormlike. They can quickly reach large numbers and become a nuisance by getting in eyes, ears, and noses, although they do not bite. Their ideal breeding grounds are moist, decaying organic material–something that can be present with drain clogs or leaks.
Drain flies don't always indicate a leak. Sometimes you may come back from a vacation to find a new colony in stagnant toilet water, or there may be rotting houseplants nearby. But since their source can be hard to locate, it is a very good idea to get a sewer inspection to rule it out, especially if you are experiencing other signs of a leak.
Home Drain & Sewer Camera Inspection Services Near You
Your current drain issue may seem like a minor inconvenience. But even the smallest problem can grow into a significant one if ignored for long enough and may even require a sewer line replacement. Give our team a call early on so we have a better chance to handle the problem head-on with a sewer scope inspection. Our plumbing company aims to reduce the amount of damage dealt to your system and wallet.
All of this works to save you time and money. This is one of the many reasons why people choose Zoom Drain of Bucks County over other sewer companies in Doylestown.
Our team is prepared to handle drain inspections to meet a wide variety of needs. This includes drainage problems, clogged systems, real estate information, and more. We utilize advanced tools and proven methods. One example is our our video inspection/sewer camera technology which can quickly locate damage so we can address it immediately.
Schedule a service with us online or call(215) 515-7907 for professional sewer or drain camera inspection in Bucks County today!