Charlotte Drain & Sewer Cleaning Pros
Fast & Reliable Sewer & Drain Repairs
A clogged-up drain is every homeowner's nightmare. The thought of a sink overflowing or sewage backing out of a toilet can give anyone shivers. Who can you call when you need help with a problematic drain or sewer line – and fast?
Zoom Drain of Charlotte, of course! We are the trusted team of drain and sewer service experts in Charlotte for residential and commercial properties alike. Our highly trained team is equipped with top-grade tools-of-the-trade and leading industry knowledge so we can tackle anything that winds up in your drain. Whether you live in a multistory townhouse or an expansive ranch home, Zoom Drain of Charlotte can handle all your sewer and drain repair needs.
Schedule your service based on when it is convenient for you. Call us at (980) 321-0660 today.
Trusted Technicians

Customer Satisfaction

Flat Rate Pricing

Super Service Trucks

Not Sure What You Need?
Check out some drain and sewer symptoms to find your answer.
Explore Now
"Their technician really did a great job of laying all the options on the table and leaving the decisions up to me in a no pressure way."

"These guys are stellar!"

"Five star experience from start to finish."

"They've always been able to go above and beyond to finish my projects quickly."
Read More Reviews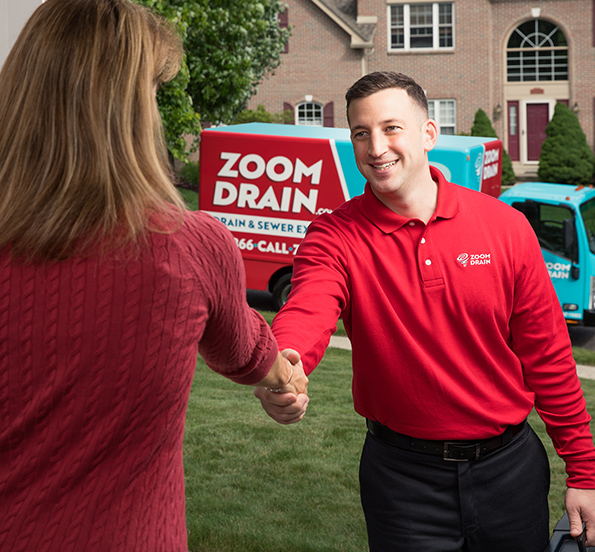 ZOOM DRAIN® Means Quick Service!
Sometimes a clogged drain is a real emergency that you can't put off. Imagine if you can't open your restaurant business because a drain in the kitchen is causing a backflow. That's money you lose each minute the problem persists. That's why Zoom Drain of Charlotte keeps a flexible schedule and drain and sewer service technicians always at the ready. When you reach out to us for help, we'll be there as soon as possible to get your drain or sewer line working again!
What Do Plumbers Use to Unclog Drains?
Plumbers use a number of methods and tools to clear drains, including plumbing snakes, high-pressure jetting, augers, and more. But plumbers also use Zoom Drain! Because we focus solely on drains and sewers, our drain specialists clean more drains each year than most general plumbers do in their entire career. Plumbers know they can trust us to clear clogs quickly and effectively.