Sewer and Drain Cleaning in Charlotte
Reliable Sewer & Drain Cleaning Near You
A clogged-up drain is every homeowner's nightmare, and not just because it's incredibly inconvenient. The thought of a sink overflowing onto the kitchen floor, or sewage backing out of a toilet can give anyone shivers. And no one has the time to deal with the aftermath of those clogs. So, who can you call when you need help with a problematic drain or sewer line – and fast?
Get in touch with the best drain plumbers near you today! Call our drain CLEANING specialists at (980) 321-0660 or contact us online!
Your Reliable Drain Plumber in Charlotte, NC
Zoom Drain of Charlotte, of course! Our drain specialists serve residential and commercial properties in Charlotte. Equipped with advanced tools and leading industry knowledge, we specialize in tackling any problem in your drain or sewer, including:
Drain and Garbage Disposal Clogs
Problematic Tree Root Invasions
Cracked and Broken Drains
Consistently Slow Running Drains
Sewer Odor and Fly Problems
Drain Inspections for Home Purchases
Toilet or Basement Overflow
Recurring or Stubborn Blockages
It's important to keep in mind that this list is by no means exhaustive. Our sewer and drain specialists near you work on drains in multistory townhouses, cozy homes, and office buildings, which means we're highly skilled in a variety of drain services near you regardless of the extent of the damage.
If you're encountering an issue with your drains, don't hesitate to get in touch! We're happy to discuss what's going on and how we might be able to help you get things back in order. But you don't need to take our word for it.
Dealing with a Clogged Drain in Charlotte, NC?
One of the most frustrating plumbing issues homeowners and business owners have to deal with is a clogged drain. When your plumbing is partially or completely obstructed, the water in your pipes will redirect itself, resulting in backups and even flooding, which can disrupt the function of your home or office and lead to serious damage to the plumbing, requiring the help of drain specialists to resolve.
The following are the common causes of clogged drains:
Hair
Food
Mineral buildup
Dirt
Tree roots
Paper products
Oil, grease, and fat
Feminine hygiene products
If you are experiencing a clogged drain in Charlotte, NC, look no further than Zoom Drain of Charlotte to resolve the issue and return your confront and peace of mind. We will thoroughly inspect your plumbing, determine the issue, and use the latest tools and techniques to get the job done right.
Looking for drain cleaning services near you? Give our team a call at (980) 321-0660 or schedule service online!
Trusted Technicians

Customer Satisfaction

Flat Rate Pricing

Super Service Trucks

Not Sure What You Need?
Check out some drain and sewer symptoms to find your answer.
Explore Now
Contact Us
(980) 321-0660
Areas We Serve
barium springs
belmont
bessemer city
bowling green
charlotte
clover
cramerton
crouse
faith
fort mill
gastonia
harrisburg
indian trail
locust
lowell
matthews
mc adenville
midland
mineral springs
monroe
mount holly
mount mourne
mount pleasant
newell
paw creek
pineville
rock hill
stanfield
van wyck
waxhaw
wingate
york
28010
28012
28016
28026
28032
28033
28035
28041
28052
28053
28054
28055
28056
28070
28075
28079
28082
28093
28097
28098
28101
28104
28105
28106
28107
28108
28110
28111
28120
28123
28124
28126
28130
28134
28145
28163
28173
28174
28201
28202
28203
28204
28205
28206
28207
28208
28209
28210
28211
28212
28213
28214
28215
28216
28217
28218
28219
28220
28221
28222
28223
28224
28226
28227
28228
28229
28230
28231
28232
28233
28234
28235
28236
28237
28241
28242
28243
28244
28246
28247
28253
28254
28255
28256
28258
28260
28262
28263
28265
28266
28269
28270
28271
28272
28273
28274
28275
28277
28278
28280
28281
28282
28284
28285
28287
28288
28289
28290
28296
28297
28299
28603
28687
29703
29704
29707
29708
29710
29715
29716
29730
29731
29732
29733
29734
29744
29745
Schedule Service
"Wonderful experience all around."

"Their technician really did a great job of laying all the options on the table and leaving the decisions up to me in a no pressure way."

"Zoom's response time was stellar and they were able to clear the sewer line in no time flat."

"They were super responsive from the first phone call to the final follow up."
Read More Reviews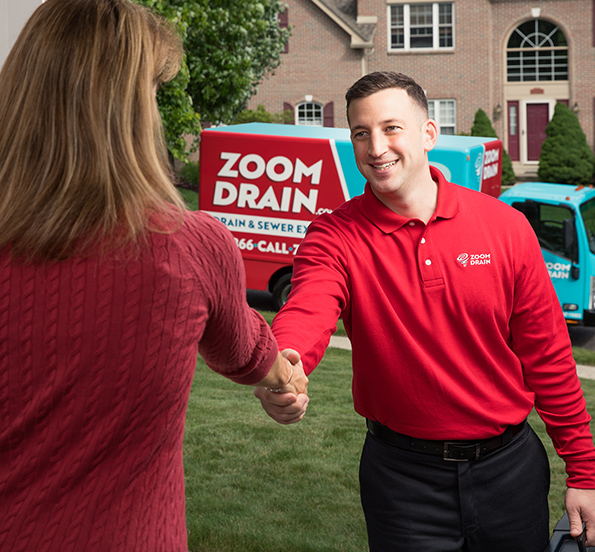 ZOOM DRAIN® Means Quick Service!
Why Choose Zoom Drain of Charlotte?
Home and business owners alike count on our professionals because they know to expect:
Timely arrivals for scheduled services – we respect your time
Complete satisfaction guarantees on our work for your peace of mind
Maintenance programs that ensure your drains are properly cared for
Financing options for flexible payment accommodations
Honest pricing with no surprise fees or hidden charges
Charges by the job rather than by the hour
No overtime fees for nights, weekends, or holidays
A thorough inspection of the situation to determine the best solution
National service standards from a local team in Charlotte
24/7 availability in case of drain or sewer emergencies
Before any work begins, we will share our findings with you, along with any options for repair so that you can make informed decisions for your property. Backed by a national brand with decades of experience, we're here to help in any way we can. And with a name like ZOOM, we have to be fast!
Dial (980) 321-0660 or contact us online to learn more about drain cleaning services near you!