GREASE TRAP SERVICES
Leave the Job to Our Drain & Sewer Experts
If you run a restaurant or any other type of business that requires a lot of kitchen use, it's vital to schedule grease trap services regularly. Your grease trap contains vegetable oils and animal fats in kitchen wastewater that must flow through your pipes before reaching sanitary sewer lines. Letting this grease build up will lead to clogged lines, foul odors, and other potentially hazardous consequences.
Your commercial kitchen can't function without a reliable plumbing system – that's where Zoom Drain of Long Island comes in. We offer top-quality grease trap services using some of the most advanced tools and techniques in the industry.
Need grease trap cleaning on Long Island? Schedule service online or call us at (631) 801-4100 to learn more!
Effectively Removing All Grease Buildup
Our trusted and trained technicians will thoroughly pump your grease trap to remove the foul smells and other safety problems that come with a poorly kept trap, so you don't need to have it cleaned as frequently or worry about old grease accumulating.
ZOOM DRAIN® is proud to include regular grease trap services in our Planned Maintenance Program. This program can help to ensure your drain and sewer lines operate as efficiently as possible year after year.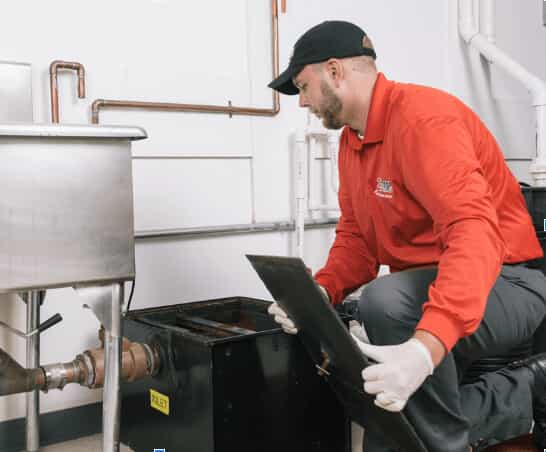 Specializing in All Kinds of Drain & Sewer Solutions
Unlike many other companies, we are not a jack-of-all-trades. We specialize in drain and sewer line services and always strive to deliver fast, reliable solutions of the highest quality. Our professionals have undergone extensive training at our in-house training center. We are masters at what we do and are meticulous in our work, from start to finish.
When you trust ZOOM DRAIN® with a task as important as this, you can count on us to take you and the job at hand very seriously so you can get back to work right away.
Zoom PumpingTM Services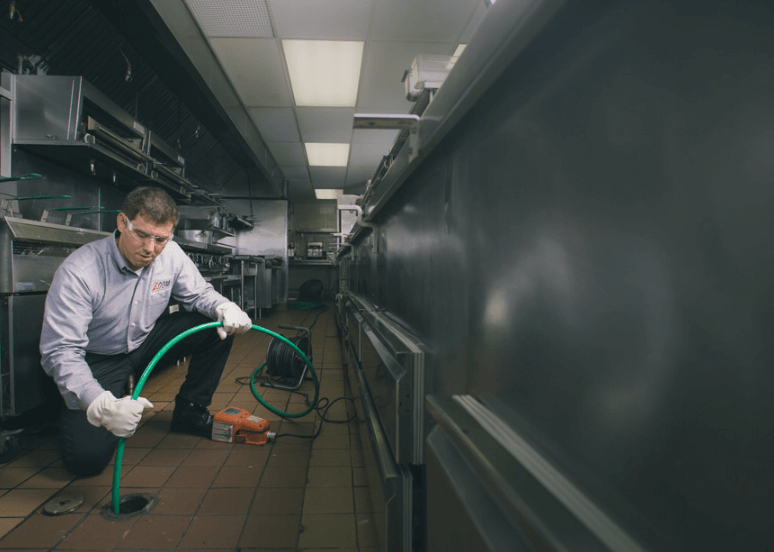 Our proprietary Zoom Pumping method is the ideal solution for maintenance and upkeep of grease traps and grease interceptors.
Backed up drains in your kitchen might not just be a blockage in your drainage system, but could be a result from a full or under-maintained grease trap/interceptor. Leaving your systems unchecked can lead to costly back-ups and down-time in a busy kitchen. Vacuuming and cleaning these vital points helps prolong the life of these units and keeps your back-of-house operating smoothly. With Zoom Pumping, we're your all-in-one provider for grease trap cleaning and pumping. We take care of both!
​​
How does Zoom PumpingTM for grease traps work?
Grease traps and interceptors are designed to remove grease, fats, oils and food solids from your drains before they reach your main sewer. They need to be properly maintained on regular intervals to ensure proper functionality. Our technicians provide professional recommendations of scheduled cleanings to help avoid blockages throughout your entire property that could result in issues with the Department of Health and your local municipality.
Our vacuum trucks are engineered for grease, with bigger pumps and a tank that holds up to 2,000 gallons of sludge and has hose that can reach up to 300 feet - extending to those hard to reach indoor grease traps and large interceptors with ease.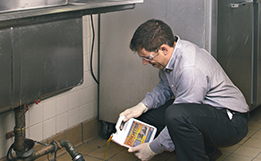 ​
In addition, our technicians come equipped with water jets for pressure washing after pumping, leaving the inside spotless and clear of debris. We also clean the inlets and outlets of the traps, going one step further to ensure easy flow throughout your system.
​​
To finish, we supply enzymes and degreasers to keep your traps operating smoothly and efficiently, thanks to the efficient and high quality service you've come to expect from us.