My Bathtub Backed Up And Left Stains, How Do I Remove Them?
Posted By:
Ed Miller
You've had the drain and sewer experts out to look at your backed up bathtub full of murky water and, after a vigorous drain cleaning service, everything seems to be flowing its best again. But, you soon notice unseemly stains on your bathtub, left from that sitting wastewater.
Getting rid of stains left behind from backed up drains requires a little more elbow grease than just spraying down the tub with water. While a damp cloth can often remove newly-formed soap scum, mildew and grime stains, getting rid of stains left behind from a backed up drain will need some sort of cleaner. And, like any tub stain, the longer it sits, the harder it is to remove.
Keeping your bathtub clean ensures that you and your family remain safe from harmful bacteria. Many homeowners opt for one of the various store-bought cleaners specially formulated for bath surfaces, like Scrubbing Bubbles, OxiClean, CLR, Lime-A-Way and Clorox Clean-Up. If you do use one of these products, be sure to follow the manufacturer's directions, so that you know you're using it safely, since many of them actually contain harmful chemicals. Also, avoid rinsing such chemicals down the drain afterwards, as they can potentially damage your line.
How Can I Safely Remove Stains From My Bathtub?
If you're looking for an alternative to store-bought, chemical-based cleaners, white vinegar can remove more mild stains, while hydrogen peroxide and baking soda can tackle tougher stains.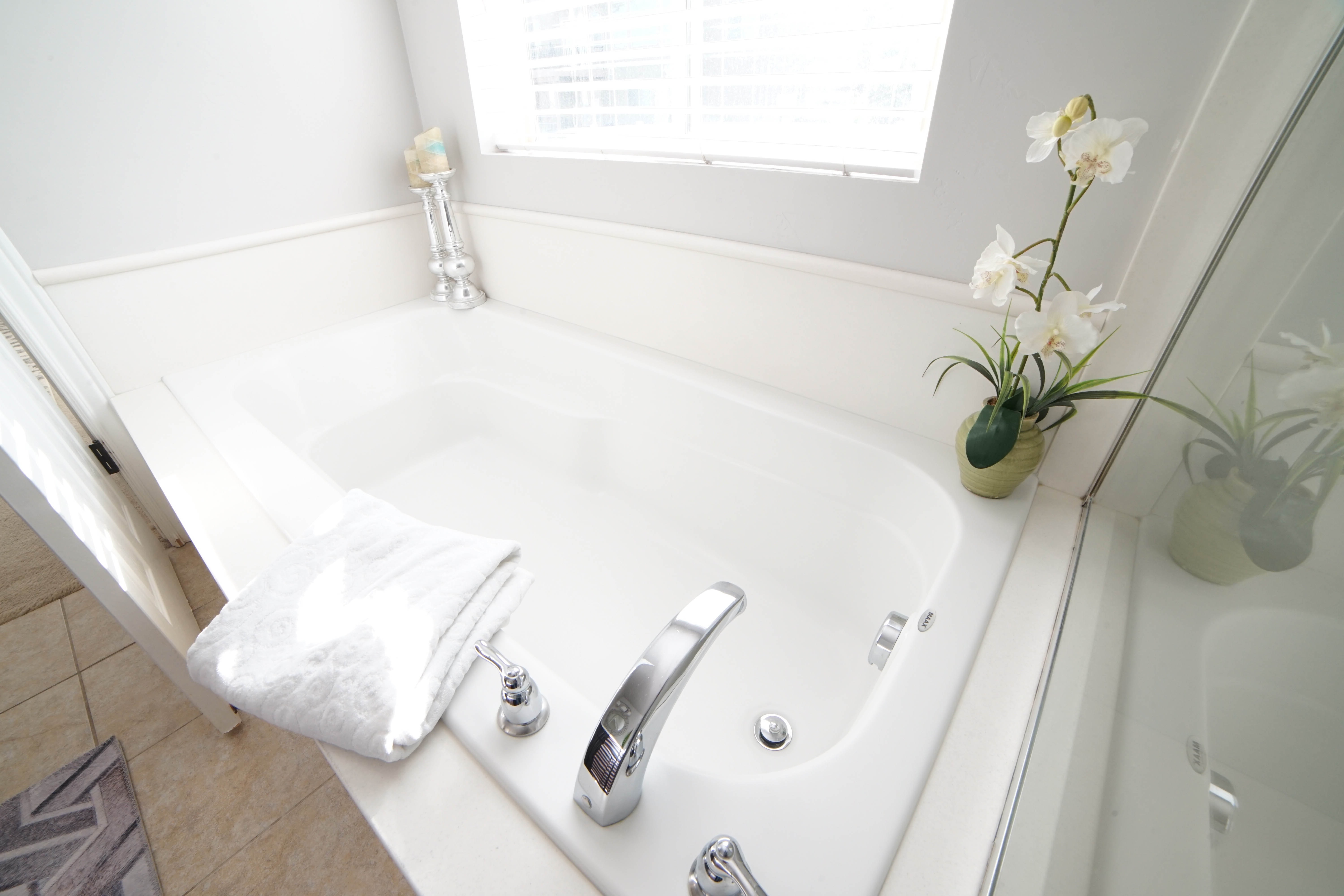 Don't want to use chemical-based cleaners from the store to remove wastewater stains?
There's something in your kitchen that'll work just as well for mild stains: white vinegar. Start by filling a spray bottle with half white vinegar and half warm water. Next, you're going to want to spray the tub's surface and let that solution sit on there for 15 minutes. After it's sat, take a microfiber cloth or a sponge and wipe it down, rinsing it with clean water and wiping again afterward. But what about more difficult stains from your wastewater, caused by bacteria and various minerals?
When it comes to tougher stains, you're going to need a little more cleaning power. Start by creating a paste that consists of one part hydrogen peroxide to two parts baking soda. Once you've created a thick paste, you'll want to rub it on the stand and let it sit for 30 minutes to an hour, at which point you'll want to then wipe it and rinse. Repeat these steps if necessary.
Things To Remember When It Comes To Bathtub Stains
When removing bathtub stains, never use abrasive brushes, always wear clothes you don't mind getting stained, use gloves to protect your skin and never mix chemical cleaning products, it can create toxic fumes or even potentially burn your skin.
Here are a few tips to get rid of your bathtub's stains safely:
Never use steel wool or abrasive brushes, as they can scratch the surface.
Don't mix various cleaning products – it can create toxic fumes or even burn your skin.
If you're using chemical products, wear gloves to protect your skin.
Be sure to wear old clothes, because products like hydrogen peroxide stain clothes.
Are you currently experiencing a backed up bathtub, with murky water filling it up and potentially leaving stains? Zoom Drain is ready to help, 24 hours a day and seven days a week, with experts that can get your drains flowing again. Give us a call or schedule an appointment online and one of our experienced experts will come out fast and get your drains flowing again.
Categories: