Lights, Camera, Drains: Five Of The Most Famous Hollywood Plumbers
Posted By:
Ed Miller
We recently looked at six famous people who were actually plumbers before striking it big, so now it's time to turn our focus to fictional plumbers who have graced the big screen.
There have been a lot of plumbers portrayed on film and TV and we thought it would be fun to look at a few of Hollywood's most recognizable tradesmen. You might remember some of them and others might be from before your time. And while they might not be experts when it comes to drains and sewers, each of them has offered some laughs to a wide audience since their film or show was released, even if it wasn't very good – we're looking at you Super Mario Bros.
Ed Norton: The Honeymooners
Played by Art Carney, Ed Norton was a New York City municipal sewer worker who knew his way around the underground tunnels in the popular 1950s TV sitcom The Honeymooners. The best friend of the boisterous Ralph Kramden, portrayed by Jackie Gleason, Norton described his job as "a sub-supervisor in the subdivision of the department of subterranean sanitation."
The Three Stooges: A Plumbing We Will Go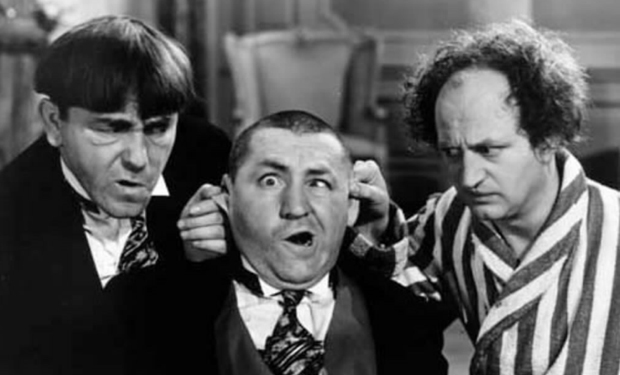 Over the course of their career, there weren't too many professions The Three Stooges didn't take on and, in 1940, Moe, Larry and Curly became plumbers for A Plumbing We Will Go, an almost 18-minute short where everything that can go wrong goes wrong. From cracked pipes to belly punches, the stooges are up to their usual antics and the film was such a hit, they actually remade it two other times, though it wasn't with all three of the trio's most notable members.
Elmer Tuttle: The Passionate Plumber
One of the most famous actors and comedians of the silent film era, Buster Keaton decided to aim his humor at the trades in 1932's The Passionate Plumber. Set in Paris, it follows Elmer Tuttle, who is hired to do some plumbing work – but only to make a woman's boyfriend jealous. Tuttle is looking to network with these socialites to get financing for his invention of a laser gun sight, leading to a miscommunication of a potential assasination attempt on a military leader.
Mario Mario: Super Mario Bros.
Based on the popular 1980s video game, Super Mario Bros. stars Bob Hoskins and John Leguizamo as Mario and Luigi, the plumbing brothers trying to save Princess Daisy much like in almost every sequel version of the video game. The 1993 film took some liberties when compared with the source material, creating a comedy that was also weird and dark. Now, almost three decades later, the world's most famous plumber is set to return to the big screen in animated form.
Ernest P. Worrell: Ernest Goes To School
Jim Varney built a career with the Ernest film franchise, portraying Ernest P. Worrell, a rubber-faced, everyman who gets placed into odd jobs and predicaments. The character originated on local television commercials and. in 1994's Ernest Goes To School, he's a school janitor who decides to re-do school. Sure, he's technically a janitor but it's clear he has a little plumbing knowledge, thanks to a scene where he gets into a fight with the pipes of a toilet.
You probably wouldn't trust any of these Hollywood plumbers to tackle your drain and sewer problems but you can trust Zoom Drain! Whether it's video sewer inspections, drain cleaning or grease trap maintenance, we can handle any wastewater problem, so give us a call or schedule an appointment online at your nearest location and we'll get your lines flowing again – fast!
Categories: